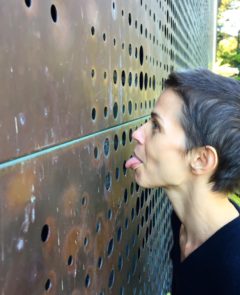 ARTIST LICKING THE FACADE OF DE YOUNG MUSEUM. I am quite fascinated by the copper facade of the museum. I did some research about copper and was intrigued to learn that copper is an essential trace mineral necessary for our survival, yet it is a mineral our body does not produce by itself. It turns out oysters have a perfect balance of zinc and copper to give us the most benefits; however, they are in danger of extinction and most people can't afford them. Having a little lick of the de Young could be a very generous gesture—democratic, free, and nourishing.
Prvački is a cross-disciplinary artist whose works take the form of diverse projects that draw on performance, daily practices, consumer aesthetics, and popular concerns. Her projects foreground experimentation in content and form, their ephemeral nature both a strategy for creating unique experiences and a nod to an environmentally conscious artistic practice. Her performances have been commissioned by the LA Philharmonic and the Chicago Architecture Biennial, among others.
Her work has been included in many international exhibitions including the 57th Oktobarski Salon, Belgrade, Serbia, 14th Istanbul Biennial SALTWATER: A Theory of Thought Forms, Istanbul, Turkey 2015, Contour Biennial in Mechelen Belgium 2015, dOCUMENTA 13 2012, Sydney Biennial 2007, Singapore Biennial 2006, and the Turin Triennale 2005.
Solo exhibitions and projects include the Hammer Museum, Los Angeles; the Isabella Stewart Gardner Museum, Boston; Castello di Rivoli Museo d'Arte Contemporanea Turin; Institute of Contemporary Arts, Singapore and 1301PE Gallery, Los Angeles.
Prvački is currently the artist in resident at the de Young Museum in San Francisco where she is a developing a solo show in collaboration with Google Arts and Culture. https://deyoung.famsf.org/exhibitions/prvacki
Her works are included in private and public collection and institutions such as MOCA, LACMA and Castello di Rivoli.
Prvački has produced a series of ideas catalogues with the intention of filing and documenting her imagination. Some of the thoughts have been realized as performances, such as "Tent, Quartet, bows and elbows" and "The leap of faith". Her new catalogue of ideas "Finding comfort in an uncomfortable imagination" is published by ICA Singapore.
---
View CV